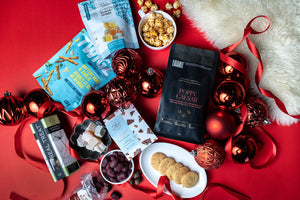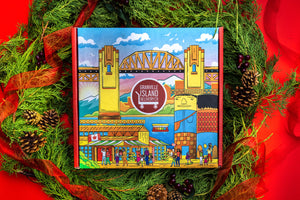 GIVE THE GIFT OF LOCAL TREATS THIS HOLIDAY SEASON! 
We've rounded up a treasure trove of snacks that everyone is sure to adore! This local gift box makes a great gift. With its selection of sweet, salty, nutty, and crunchy options, all the cravings are covered. Get your taste buds ready, because we're about to take a look at what's inside!
If you haven't tried Fraser Valley Gourmet's Almond Butter Crunch yet, you'll be hooked after one bite! We've also included a bar of 70% Bean-to-bar Dark Chocolate from Kasama Chocolate for those who crave a less-sweet chocolate option. 
Offering the perfect balance of salty sweet flavours, we can't get enough of Hardy Buoys' Maple Candied Salmon and The Nut Merchant's Canadian Maple Almonds. Both of these products are made with organic Canadian maple syrup and will soon to be your new obsession! 
Last but certainly not least, we've included two crunchy delights! Twigz Herb and Garlic Pretzels will be hard to put down and Eatables handcrafted-style Poppy Caesar Popcorn, is infused with the classic Canadian cocktail. Kernels that will impress.  Pick up this very Vancouver gift for yourself or a loved one who appreciates the importance of always having good snacks on hand!
WHAT'S INSIDE:
Almond Butter Crunch

 

from Fraser Valley Gourmet
Maple Candied Salmon

 

from Hardy Buoys
Canadian Maple Almond

 

from The Nut Merchant
70% Bean-to-Bar Dark Chocolate

 

from Kasama Chocolate
Herb and Garlic Pretzels

 from Twigz

Poppy Caesar Popcorn

 

from Eatables
Greeting Card & Gift Menu
Packed in a beautifully

 

illustrated Granville Island themed gift box
SHIPPING INFO
Get $10 off Shipping on orders of $99+ Choose your shipping date during checkout. We ship CANADA WIDE aside from products that state Local Delivery Only.
SUBSTITUTIONS
Due to the nature of handmade goods, from time to time we may be out of stock of a specific item. We will substitute with similar items we're sure you'll love.