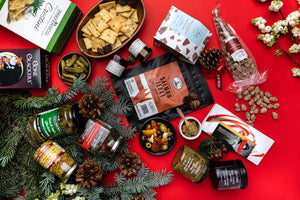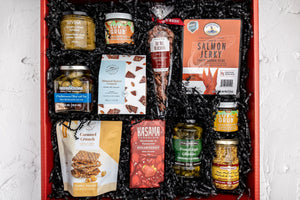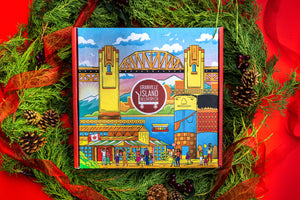 STRESS FREE HOSTING MUST-HAVES FOR THE HOLIDAYS
Hosting family, friends, coworkers, or loved ones is a breeze with the Holiday Hosting Essentials gift basket. Any great entertainer will tell you they have a few tricks up their sleeves to ensure a memorable and merry event. #1 on our list is having a beautiful gourmet spread with a wide selection of flavours, textures, and colours. We've put together some local festive favourites to enjoy on their own, or add some pizazz to the hosts' menu. 
Get the event started by putting out some Canadian-themed local snacks, perfect for the holiday season. The crave-able Maple Candied Salmon from Hardy Buoys is a real treat, and Canadian Maple Almond from The Nut Merchant are always classic. 
Sauces, spreads, and accoutrement can help take a get together from blah to extraordinary. We've included some choice selections including Fig and Walnut Preserve from The Preservatory, Green Olive Spread from Divina, Grainy Dijon Mustard, Mediterranean Antipasto, fancy crackers, and more. Guests can mix and match to their heart's desire!
Every get holiday together must have some sweets, and we've included delicious handmade, local chocolate and toffee. Kasama Chocolate's Berry White Chocolate Bar is chock-full of mouthwatering local berries, while Fraser Valley Gourmet's Almond Butter Crunch will have them reaching for more. Add good company, and you've got a party!
WHAT'S INSIDE:
Almond Butter Crunch

from Fraser Valley Gourmet

Poppy Caesar Popcorn

 from Eatables

Canadian Maple Almond

from The Nut Merchant

Berry White Chocolate

from Kasama Chocolate

Maple Candied Salmon

from Hardy Buoys

Fig and Walnut Win Preserve 

from The Preservatory

Sour Cherry Spread

 

from Divina
Roasted Shallot & Herb

from Gone Crackers

Green Olive Spread

from Divina

Mediterranean Antipasto

from Preferisco

Grainy Dijon Mustard

from Mediterranean Gourmet

French Style Gherkins

from Italissima

Skinny Thins

from Anna's Country Kitchen

Greeting Card & Gift Menu
Packed in a beautifully

 

illustrated Granville Island themed gift box
SHIPPING INFO
Get $10 off Shipping on orders of $99+ Choose your shipping date during checkout. We ship CANADA WIDE aside from products that state Local Delivery Only.
SUBSTITUTIONS
Due to the nature of handmade goods, from time to time we may be out of stock of a specific item. We will substitute with similar items we're sure you'll love.